Marshmallows are probably one of the easiest food items to dry if you are brand new to the exciting and rewarding world of food dehydration!
Unlike most other foods, there is minimal fuss and pre-drying preparation that's involved in dehydrating marshmallows, making them the ideal way to start. You can dehydrate large marshmallows, mini marshmallows, lucky charm marshmallows and even Peeps marshmallows!
With so many uses for marshmallows (adding to hot chocolate or hot chocolate mix as well as baked goods and let's not forget the super popular hot chocolate bombs), dehydrating marshmallows seems like a worthwhile exercise.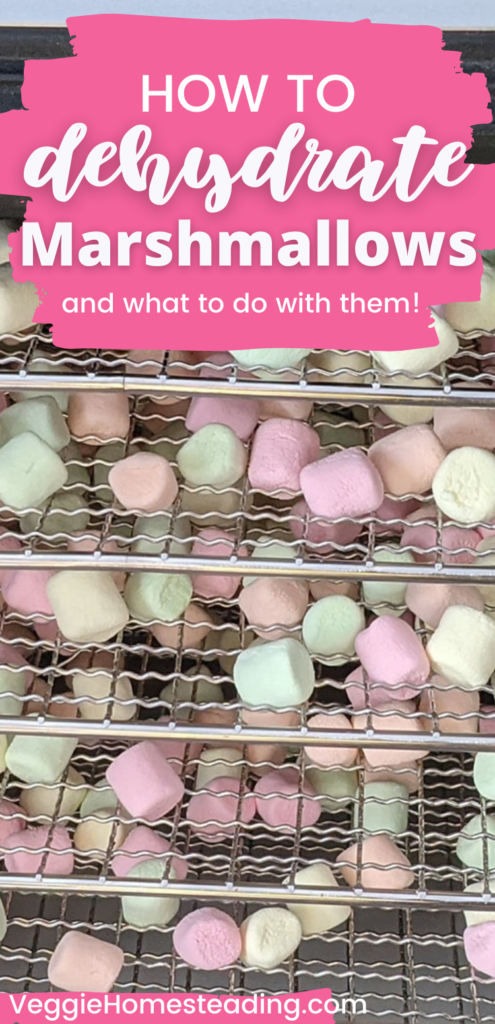 In this article you'll find:
Since the process of drying your fluffy soft marshmallows is a cinch, you'll soon be itching to try your hand at dehydrating other foods. If you're just starting out, be sure to have a read of the Dehydrating 101: Beginners Guide To Dehydrating which is a great resource for you to better understand how to start dehydrating various kinds of foods.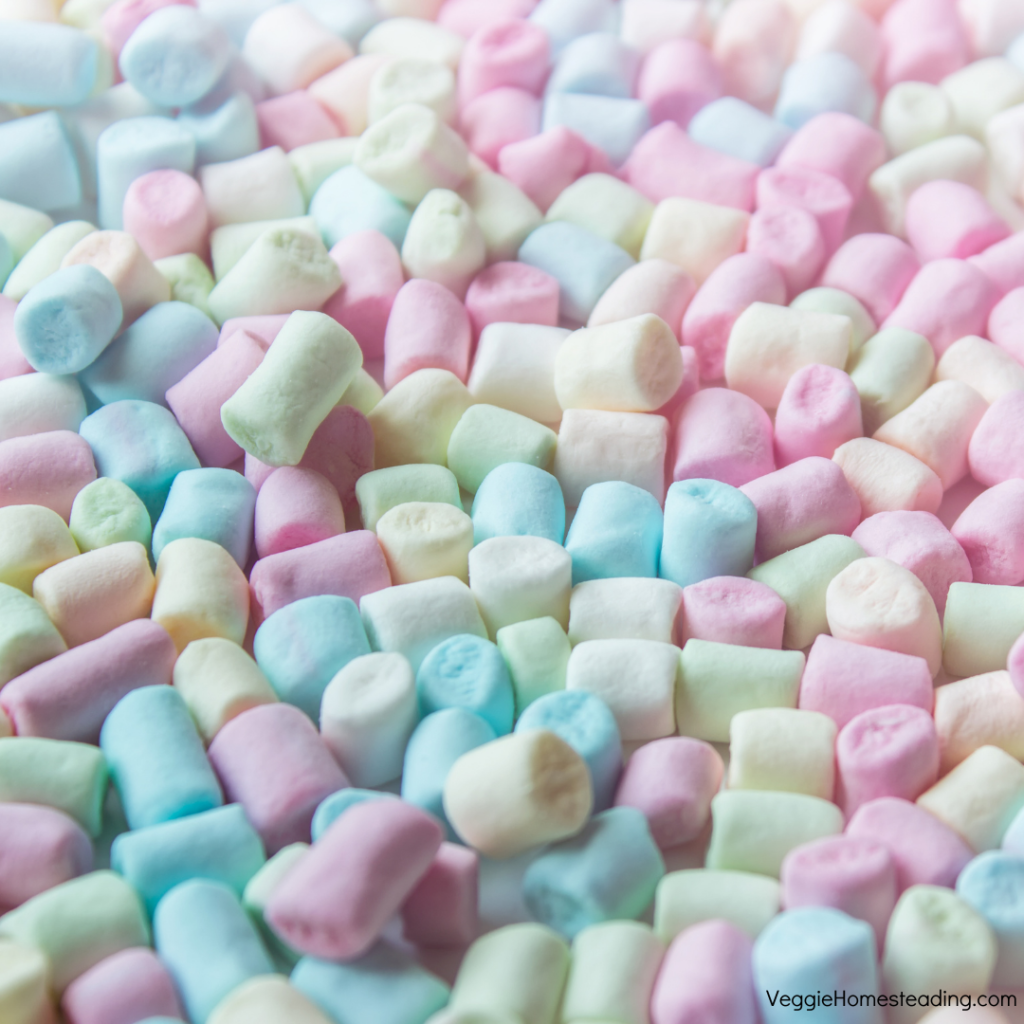 Tips for Preparing Marshmallows For Dehydration
When purchasing marshmallows at your local grocery store, don't get too hung up on the size or shape as it doesn't matter much. While you can use mini marshmallows, you can also use large marshmallows that you cut down in size using either a knife or pair of food scissors.
Either keep a wet cloth close by to wipe down your blade or use confectioner's sugar to coat your blade to assist with the stickiness that will build up from cutting the marshmallows.
Before we dive deeper into the finer details, let's have a look at some other important aspects for ensuring safe and effective dehydration of marshmallows.
Ways To Prepare Marshmallows For Dehydration
#1. Practice Good Hygiene
From a food safety perspective, make sure that all work surfaces and areas are clean and tidy before you start dehydrating your marshmallows. This also includes ensuring that your food dehydrator trays are clean as well as the inside of the food dehydrator itself.
If you decide to dry your marshmallows in the oven or microwave (alternative methods which I'll go into detail about below) then make sure that they are cleaned well beforehand too.
Remember, any bacteria from dirty surfaces or food cross contamination will have an impact on the longevity of your dried marshmallows.
I always recommend using eco-friendly cleaning agents in the kitchen and wherever your food is likely to make contact. The prospect of harsh chemical residue touching food is not ideal!
#2. Wear Gloves When Handling Your Marshmallows
Marshmallows will absorb any moisture from your hands, whether from sweat, natural oils or hand creams and other solutions used.
You want to try and eliminate as much extra moisture throughout the dehydration process so with that in mind, wearing latex or vinyl gloves while handling the marshmallows is good practice.
#3. Preheat Your Dehydrator
As you would preheat an oven, so too you should warm up your dehydrator prior to introducing your marshmallow pieces as good initial airflow in the dehydrator will help to eliminate any possible contaminants as well as get the air moving for equal drying should you be using more than one tray.
#4. Use A Sharp Knife or Pair of Scissors
If you buy mini marshmallows then you won't need to do anything other than position them onto the dehydrator trays. However, if you've bought larger marshmallows, then you'll need to cut them down in size with a knife or pair of scissors.
To help you combat sticky build up while cutting the marshmallows, coat your knife or scissors with confectioner's sugar before and while cutting the marshmallows.
If you still find that the stickiness is building up, wipe down your knife or scissors with a clean, wet cloth. You could keep a bowl of hot water next to you while you work to wet your cloth which will help wipe the sticky marshmallow residue off.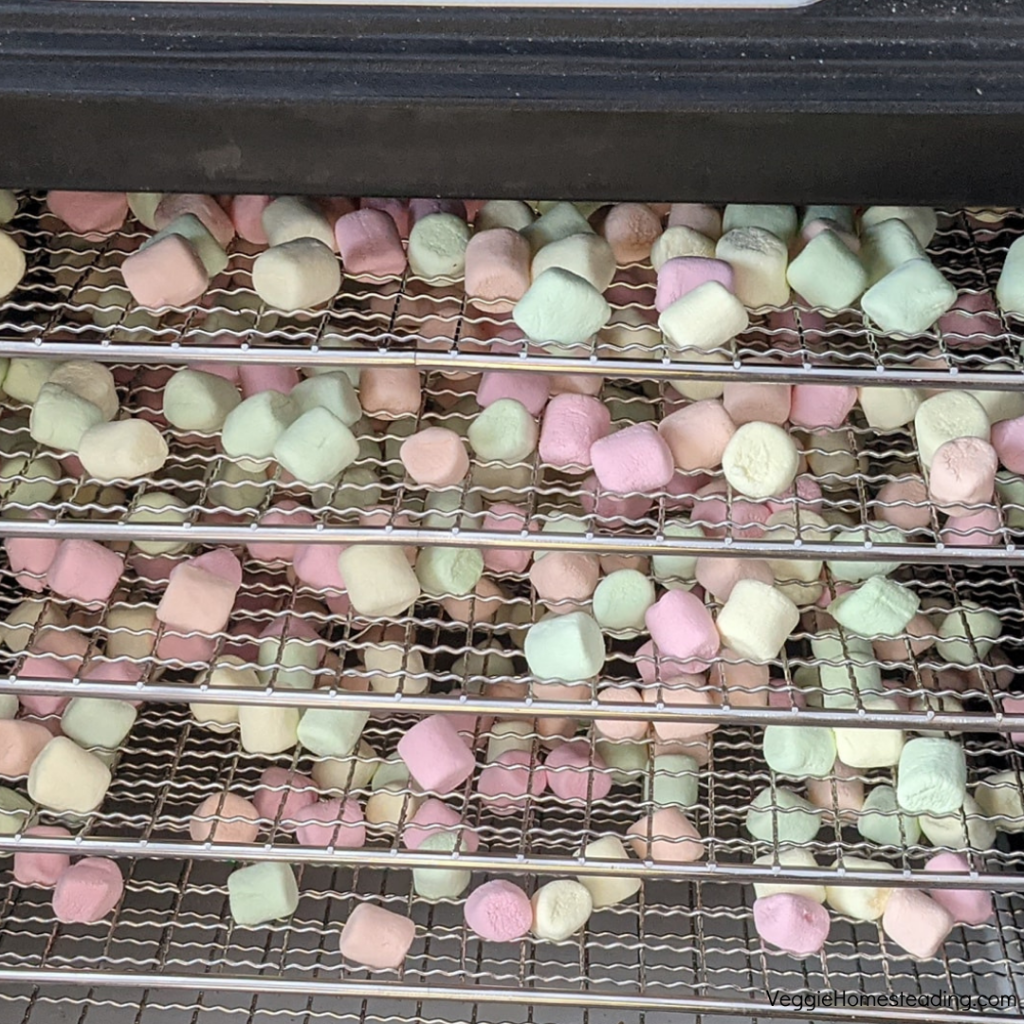 Step By Step Directions For Dehydrating Marshmallows In A Food Dehydrator
With the preparatory steps out of the way, you can now move forward, following these simple steps for drying marshmallows in a food dehydrator:
Prep your workspace and ensure that you are working in a clean environment with clean surfaces, equipment and tools.
Put on latex or vinyl gloves before you start to work with your marshmallows.
Preheat your dehydrator to 150℉ (the equivalent of 62℃) to allow good airflow through the dehydrator which will eliminate any existing contaminants that may be present.
Cut your large marshmallows down in size, making sure that you've cut them uniformly as best as possible so that they dehydrate evenly. Skip this step if you've bought mini marshmallows.
Place your marshmallow pieces on a tray or trays with equal spacing – overcrowded trays may lead to your marshmallows requiring a longer dehydration time.
Place the trays in the preheated dehydrator which is to remain at 150℉ for 10-24 hours for larger marshmallows and 4-12 hours for mini marshmallows.
Once the dehydrating time is up, allow your marshmallow pieces to rest for 5 – 10 minutes.
Once cooled, if you are uncertain as to whether your marshmallow pieces are dehydrated properly, touch to test for any remaining moisture or place a few in a sealed zip lock bag for a little while to see whether any moisture has been released through condensation. If yes, dehydrate for longer. If not, then store in a vacuumed sealed bag with Mylar bag or in a mason jar to enjoy later as is or in future recipes!
You may find comfort in knowing that you can't over dry marshmallows so if they are left in the dehydrator for a little longer than what's been specified above, it won't be a problem.
You'll know when your marshmallows are adequately dry since they should be very crunchy and be able to crumble in between your fingers when applying pressure. Only test them once they have rested since they will naturally be slightly softer when warm from the dehydrator.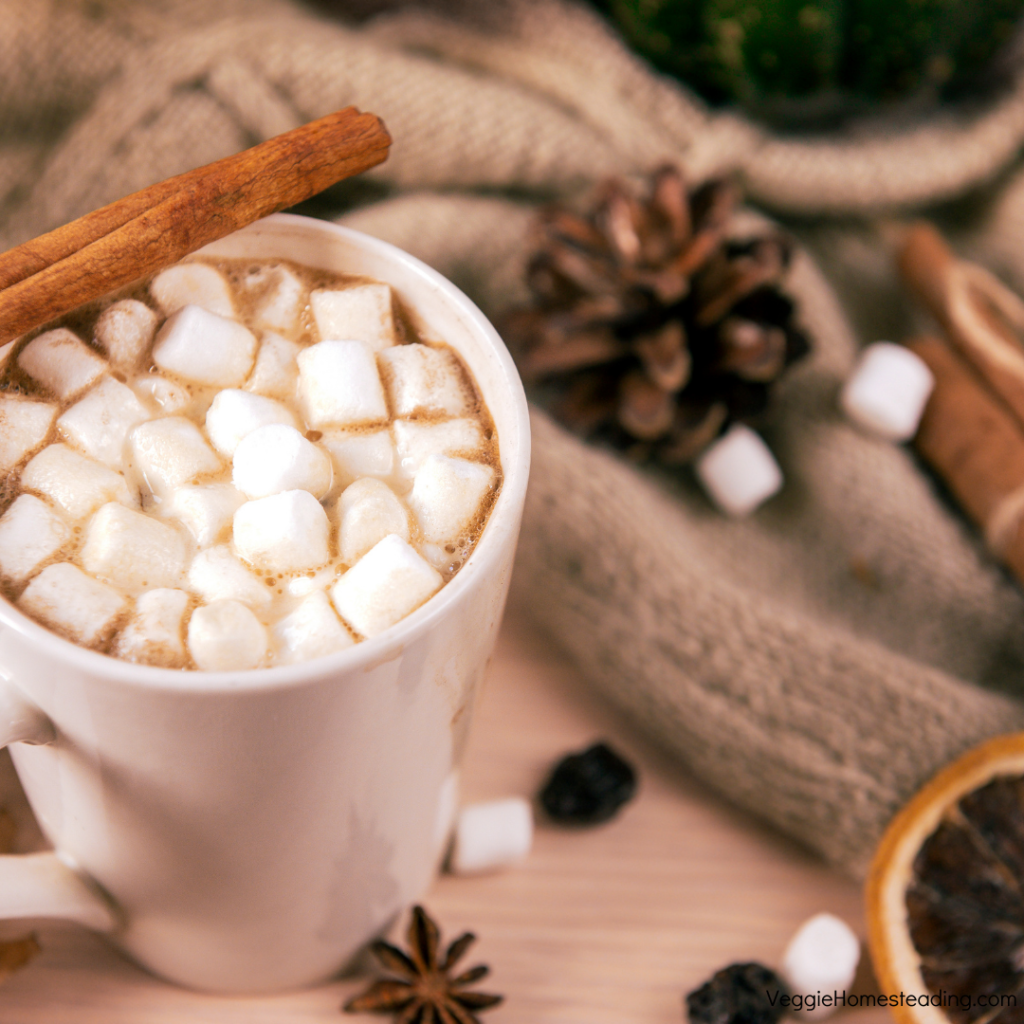 The Time It Takes To Dehydrate Marshmallows
With any food you dehydrate, make sure that at least 95% of the moisture has been eliminated otherwise food can spoil due to residual moisture remaining and you won't get the shelf life you would have expected.
While larger marshmallow pieces will take 10-24 hours on average and minis 4-12, there are other external factors worth paying attention to which can impact on your drying time, such as:
The humidity level in your area and house where the dehydration is taking place;
Whether you have crowded your dehydrator tray with marshmallow pieces or spread them out with room to spare; and
The type of dehydrator you use and the position of its fan. Ideally you want a food dehydrator that has a fan positioned at the back as opposed to one with a fan at the bottom or top. Those with fans at the back tend to produce better results, especially if you have two trays occupying space as the second lower tray will always block flow to the first tray.
In terms of the time it takes to dry your marshmallows, always fight the urge to speed up the dehydration process through increasing the heat. It's far better to allow longer dehydrating times to ensure adequate dehydration than rushing things and ending up with "case hardening" (where your marshmallows are dry on the outside but are still moist on the inside).
If, at the end of your dehydration time, you are not sure whether you've reached the 95% stage, make use of one or all of these tests that will help you to detect whether your marshmallow pieces have any remaining moisture:
After 5 – 10 minutes of allowing your marshmallows to sit after dehydration, check for any sticky or moist texture. If they are even slightly sticky or moist then it means that they need a longer time in your dehydrator.
Touch and press your marshmallow pieces between your fingers. You should be able to easily crush them into powdery pieces and they should be crunchy in texture.
After allowing marshmallow pieces to cool once dehydration time is done, place a few in a sealed zip lock bag and return a little later to check for any moisture that would have resulted in condensation. If this has occurred then your marshmallow pieces are not adequately dehydrated and require additional time in the dehydrator.
Alternative Methods To Dry Marshmallows Without A Food Dehydrator
Drying your marshmallows by food dehydrator is by far the best method but for those who don't have a food dehydrator, don't despair! You can also try 2 other methods which are outlined below.
Oven Dry Marshmallows
Most ovens don't have a low enough temperature setting for drying marshmallows (unless you have a new oven with a dehydrator function). To combat this challenge, simply set your oven to its lowest heat and prop the oven door slightly open to allow some of the heat out which will lower the oven's internal temperature.
Keep your marshmallows in your oven for roughly 5-12 hours but always make sure to keep an eye on things if you have small children around and a hot oven door ajar!
Air Drying Marshmallows
Air drying your marshmallows is definitely the longest method (and the lazy man's version)! All you have to do is keep a bag of marshmallows slightly open for air to be in contact and keep them stored in your pantry cupboard for about 3 months till they are rock hard.
Whatever alternative method you may choose, make sure that you don't try to dry your marshmallows in a microwave! They will turn a burnt brown color and you'll end up with a sticky, unpleasant smell and mess.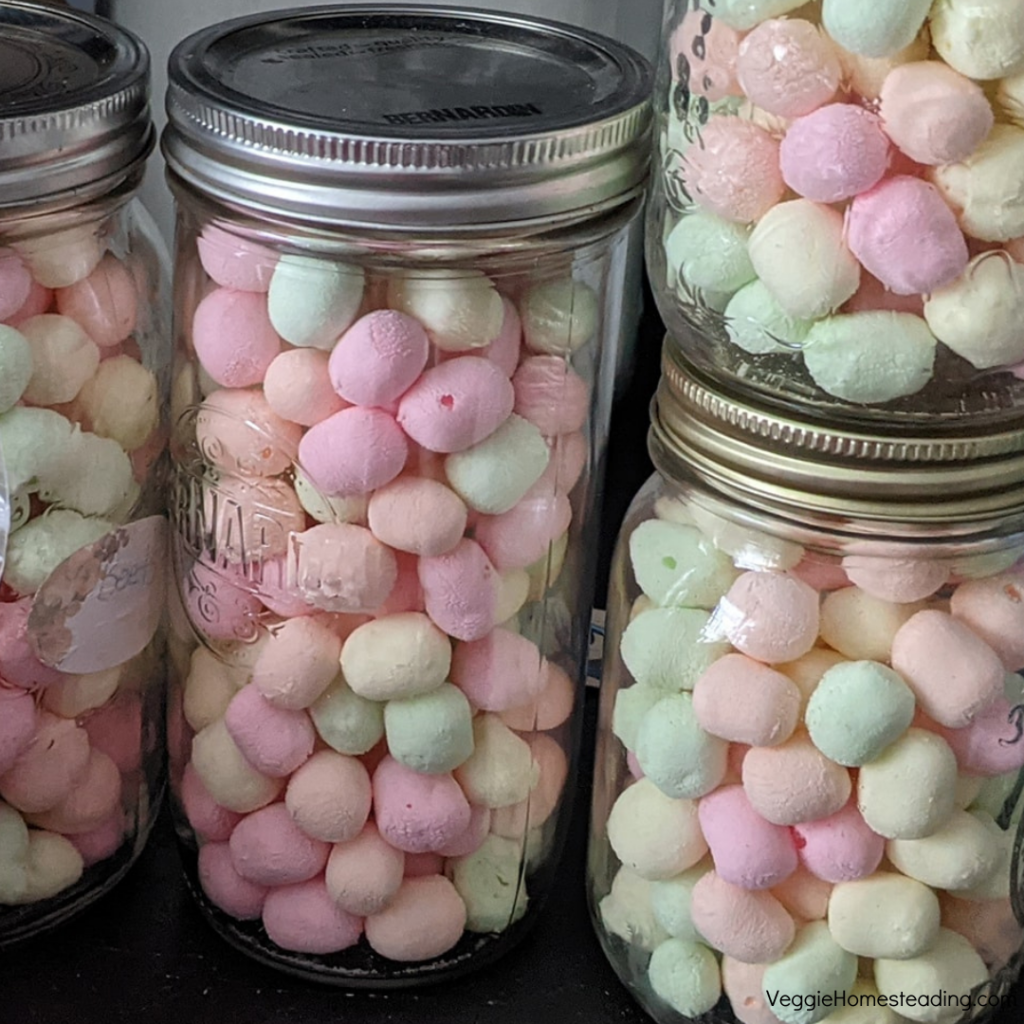 How To Store Dehydrated Marshmallows
Once you've dehydrated your marshmallow pieces and are happy that no hidden moisture remains, we then turn to adequate storage.
Where To Store Your Dehydrated Marshmallows
With any dehydrated food, location for storage is vitally important. Your dehydrated marshmallows require a cool, dry place that is free from potential pests such as rodents and bugs and has a good level of cleanliness.
Since moisture and sunlight are the main culprits for degrading dehydrated foods, it makes sense that the location of storage, as well as the storage containers/bags themselves, need to be as free from these two elements as possible.
Store your dehydrated marshmallows in your kitchen, pantry or any other area of your house that is cool, dry and has little sunlight infiltrating the space. This could be your basement or another area I haven't mentioned. Wherever you decide to store your dehydrated marshmallows, make sure that they are not sitting close to any household equipment such as dryers or dishwashing machines that emit moisture through condensation.
Supplies And Equipment To Store Dehydrated Marshmallows
To help your dehydrated marshmallows have a long shelf life, it's best to use the following storage supplies and equipment:
Sealable vacuum bags using a double-bagging process (for long-term storage); OR
Glass jars (typically for shorter-term storage);
Let's have a look at these 2 main storage supplies and equipment:
Vacuum and Mylar Bags
I would recommend using this kind of storage for your dehydrated marshmallows if you want a long shelf life of about 1 year. It involves vacuum sealing them in a vacuum bag together with oxygen absorber sachets and then placing your vacuum bag inside a heat-sealed Mylar bag (known as "double-bagging").
The vacuum bag with vacuum seal helps to remove any remaining oxygen which is important as oxygen degrades food over time. The double-bagging system using the Mylar bag is to reduce heat and keep out sunlight due to its reflective material.
Glass Jars
Glass Jars like mason jars or canning jars are also great options but will usually offer shorter-term storage owing to the fact that they don't block out as much light as the double-bagging process above and as already mentioned, the light slowly degrades food over time.
You can easily purchase all of these storage items online or at local canneries:
Having properly dehydrated and stored your marshmallow pieces, you can expect them to last for up to 1 year.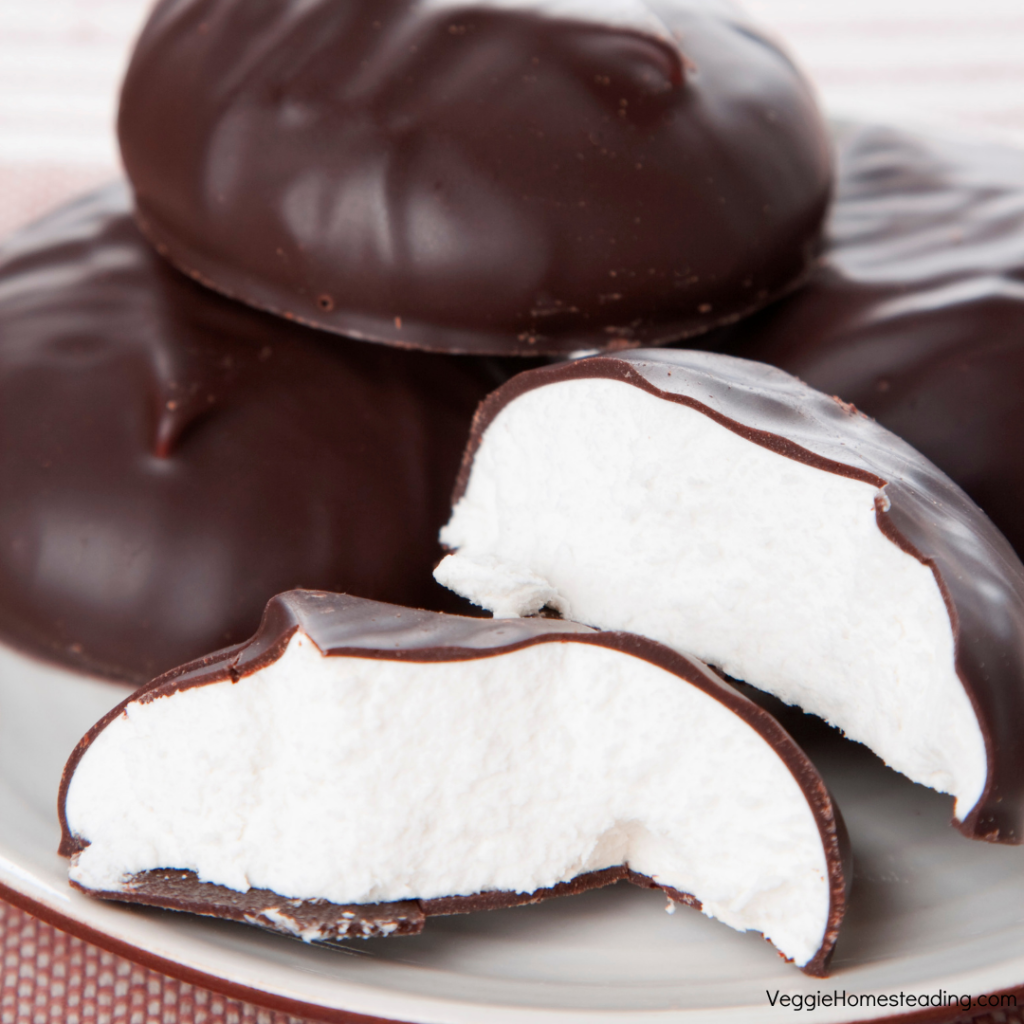 Ways To Use Dried Marshmallows
There are so many ways that you can make use of your dehydrated marshmallows. Here are a few ideas to consider:
Make marshmallow powder which can be used to sweeten and flavor hot beverages like tea or hot chocolate, or use it as a sugar powder substitute to be used in cookie recipes or for decorating baked goods;
Add them to your next mug of hot chocolate or hot chocolate cookie dough. You can even use them in hot chocolate bombs alongside hot chocolate mix and whatever else tickles your fancy like crushed peppermint – perfect for the holidays;
Add them to homemade Rice Krispie bars;
Add them to your dry homemade hot cocoa mix that you can have on hand at any time for a delicious hot beverage. Then all you have to do is add boiling water!;
Use them as a fun snack for your kids;
Include them in a homemade chex mix or cereal mix with chocolate chips and other treats;
Give a canned jar of your dehydrated marshmallows or marshmallow powder to friends and family as a cute gift or gift little dehydrated marshmallows as part of a DIY s'mores kit.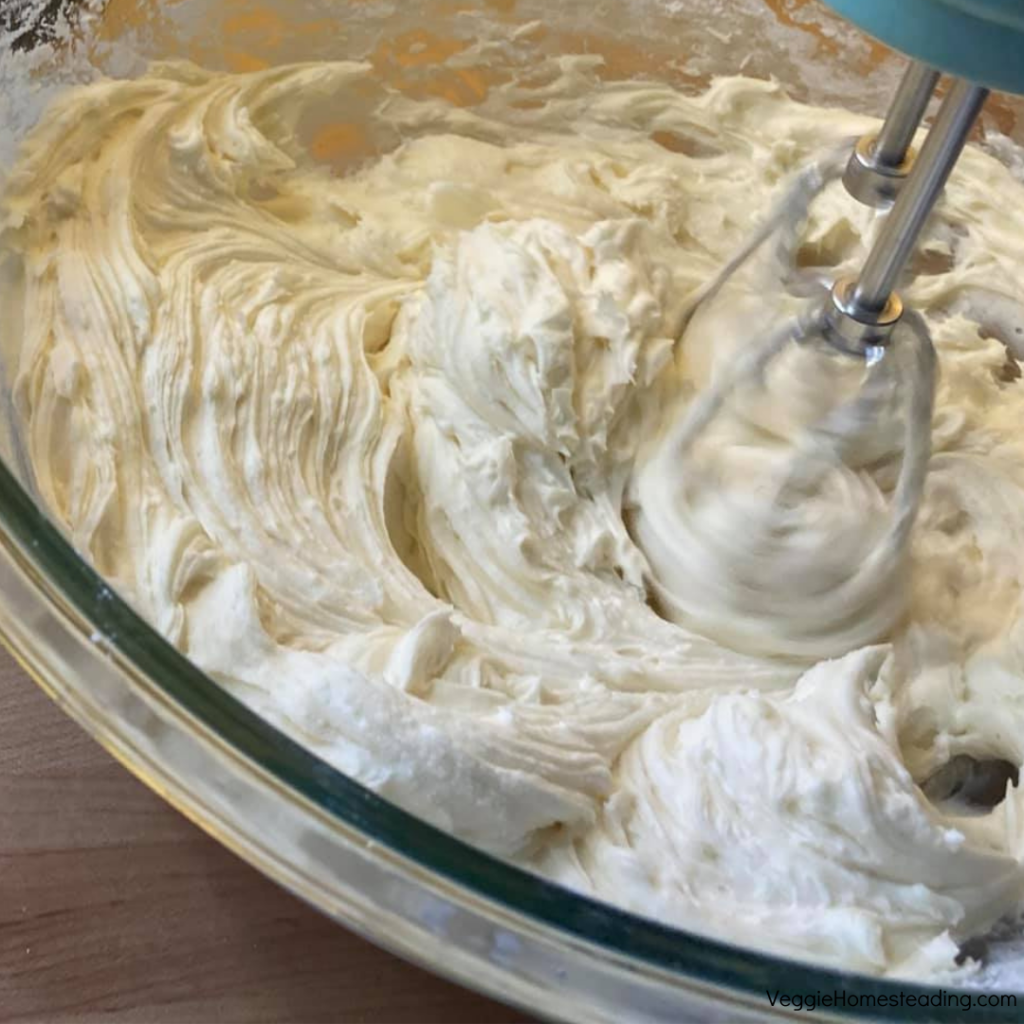 How To Make Marshmallow Powder From Dried Marshmallows
Another great way of using dehydrated marshmallows is by turning it into marshmallow powder! As I mentioned above, it can be used to sweeten or even flavor hot beverages or be sprinkled over baked goods like cookies, cakes or even gingerbread houses for visual effects and in place of other powdered sugars.
To make marshmallow powder, simply add dehydrated marshmallows to a grinder and pulse for a few seconds with regular intervals until blended into a smooth powder.
Your marshmallow powder can be stored similarly to how you would store whole dry marshmallow pieces (in airtight glass jars or vacuumed sealed bags). The great thing about this powder is that it doesn't clump the same way as other powders like dried fruit powder does. With that said, over a long period of time, clumping may occur and for this reason, I suggest that you store small batches of your marshmallow powder at a time.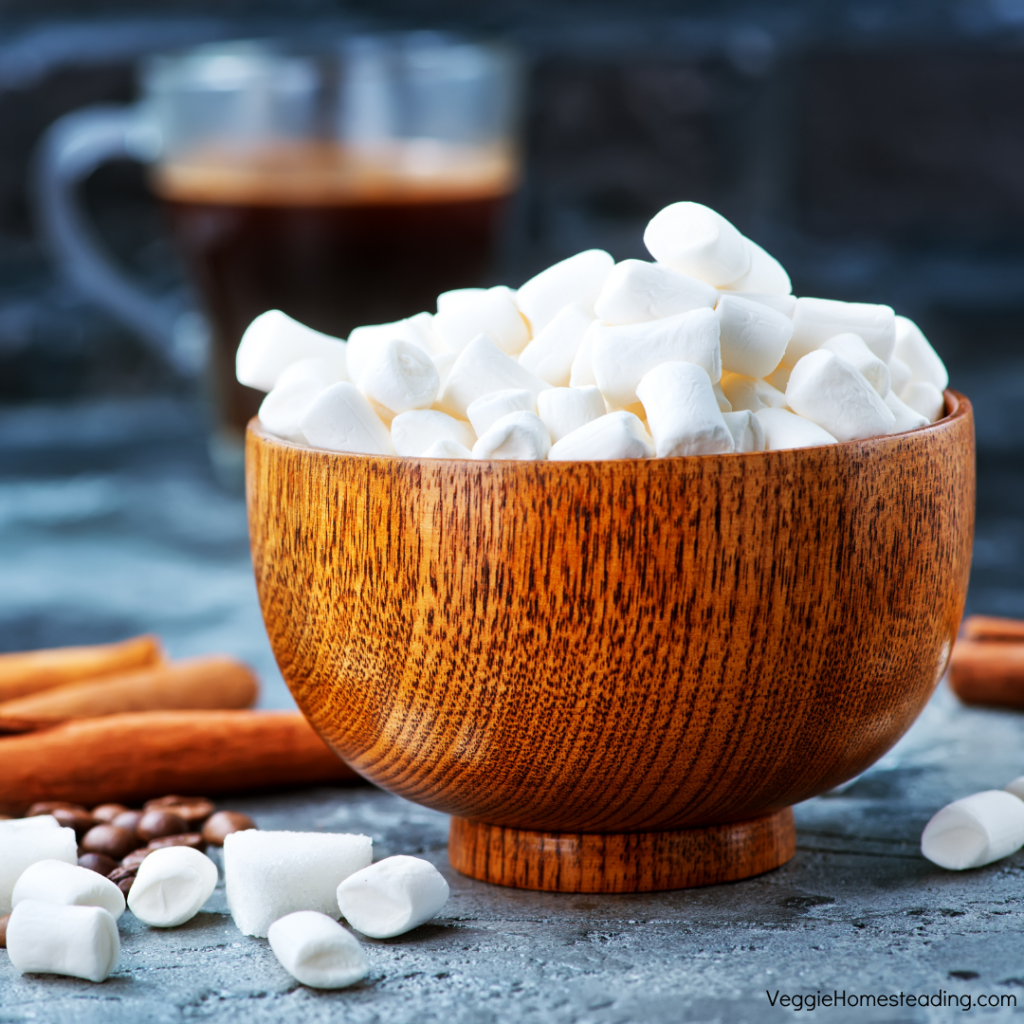 Bottom Line
Dehydrating marshmallows is a fun way of stocking up on and storing a decent amount of your favorite marshmallows that you can pull out and use in your next mug of hot chocolate, baking endeavors or as a cute gift for a loved one.
Unlike other foods that are dried at home, drying your marshmallows does not require much time or food preparatory steps. If you haven't dried any food before, this is definitely one of the better ways to experiment and learn.
Have you dried marshmallows before and if so, what did you use them for? Drop a comment below – I'd love to hear from you!