Having a small kitchen can be frustrating. Most families spend a lot of time in their kitchen and a small kitchen can feel cluttered and overwhelming quickly.
Add a few people that always gravitate to the kitchen when you are working and a small kitchen can feel overbearing.
With a little planning and some sneaky tricks, you can make the most of a small kitchen and help reduce the cluttered feeling.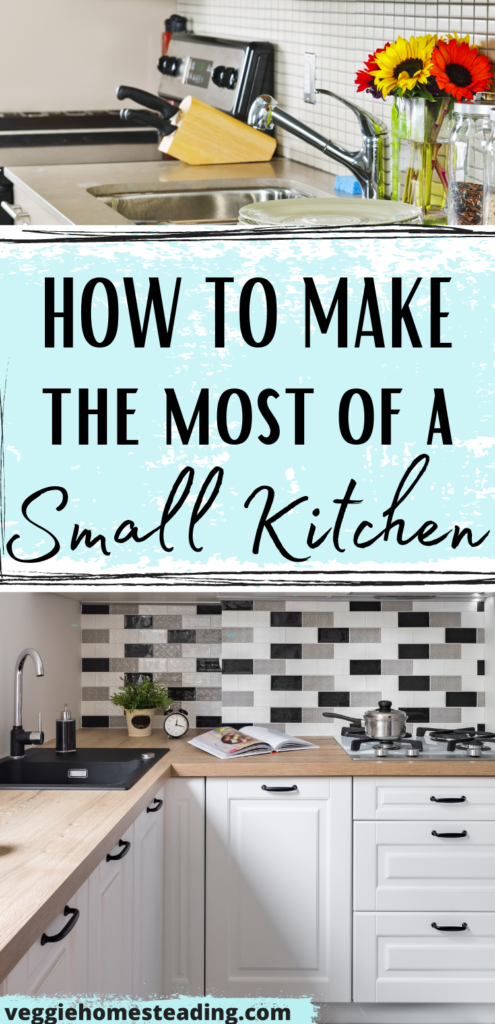 Add mirrors to make your kitchen feel larger than it is. This is a great option for backsplashes. As the mirrors reflect light they make the room feel larger than it really is while not taking up any excess space.
Take advantage of the walls for storage. Using spice racks you install directly to your walls is a great way to make more room in your kitchen by eliminating spice racks from your counter or cupboard space. Choose a nice decorative one to add some style to the room without added decorations that do not have a function and can make a space feel cluttered.
Add hooks inside your cabinet doors to make space for hanging utensils and small items like measuring cups. This will keep items like your potatoes masher from getting stuck in a drawer and leave more space for other items. Magnetic strips are a great low profile option.
Add items to the underside of your cabinets rather than the countertop. The less stuff on your countertops the less cluttered your kitchen will feel. Instead of placing items on your countertop look for mountable options for things like electric can openers and paper towel holders.
Reduce the extra small appliances in your kitchen. Look for devices like the instant pot or Ninja Foodie that can help you condense your kitchen appliances into fewer devices. This will give you fewer items that need a home and less stuff cluttering your counters. The average person has more kitchen appliances than they typically take up space in their kitchen.
Clear off the front of your refrigerator. While magnets and postings are a fun addition to many kitchens a cluttered refrigerator door often sends odds and ends to the floor when people walk past and brush against it in a cluttered kitchen. Instead, opt to display photos and art work in another area of your home on a tack or magnetic board.
Use organizers for your cabinets to make more room and easier to access shortage. This can be particularly useful for bottom cabinet storage that has a tendency to overflow simply because items are tossed in on a whim.
Declutter your kitchen often. Kitchen counters are a flat surface in the home that has a tendency to collect random items people sit down and walk away from. Take the time to remove these items and declutter drawers and cabinets on a regular basis to prevent excess items from taking over your small kitchen.
Keep items up off the floor. Place your kitchen trash out of the way and opt to feed animals in another room leaving more floor space open for walking to reduce the risk of tripping and make your small kitchen feel less cluttered.