This hearty lentil stew is filled with rich flavor and tons of fresh ingredients. This is quick and inexpensive to make, so it's the perfect ending to a long, chilly day.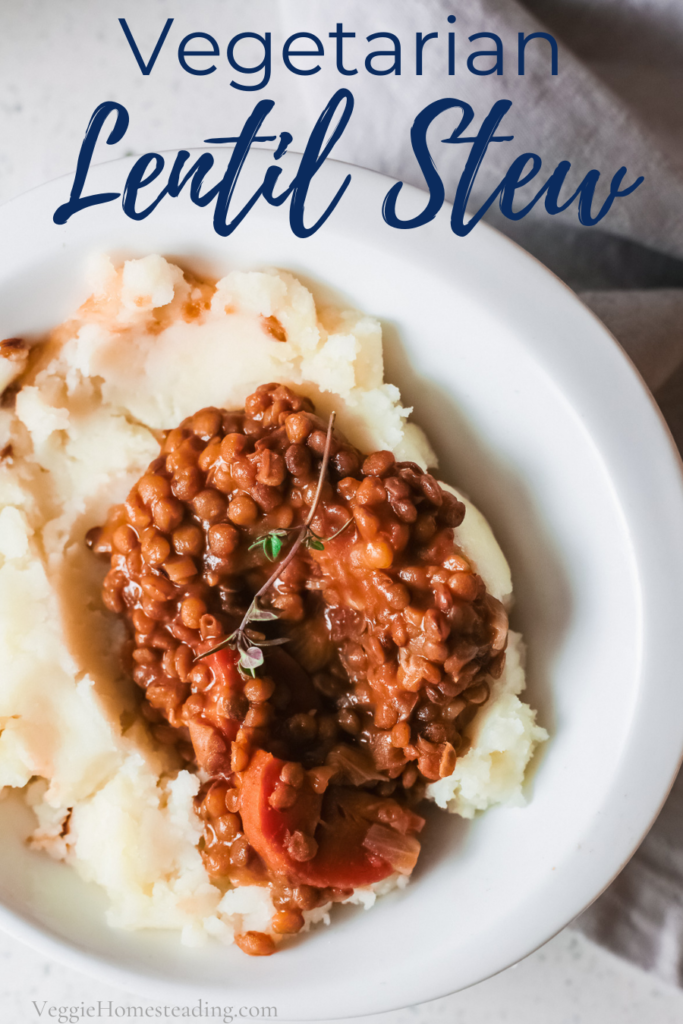 Full of flavor, comforting, inexpensive and incredibly easy to make. This Vegetarian Lentil Stew is exactly what you'll want on a chilly fall or winter night. Let's not forget, though, this is all made in the Instant Pot. That means, you can curl up under a warm blanket with your favorite book and relax while your dinner cooks itself.
Hearty Vegetarian Lentil Stew
Whether you are a vegetarian, you are looking for an inexpensive meal or you want to try something new, you won't miss the meat in this hearty stew. It is full of a variety of vegetables including onions and carrots.

I must note, this recipe only calls for two vegetables, carrots and onions, but this is a extremely versatile stew. Think about adding celery, eggplant, or sweet potatoes.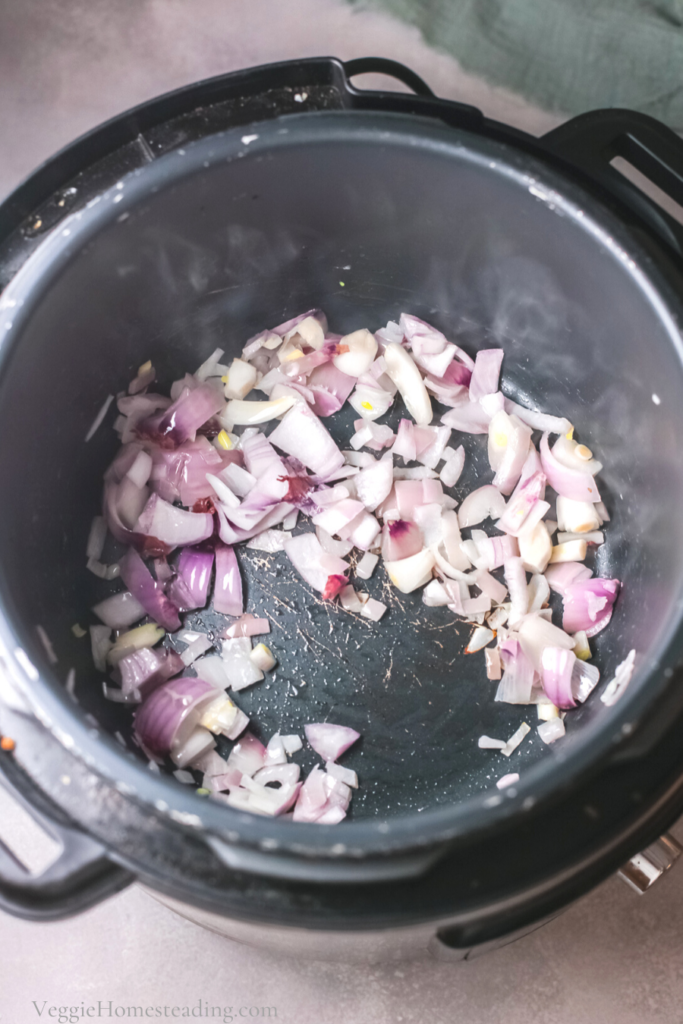 This stew starts off with sauteing onions in olive oil. This will make your kitchen smell delicious in just one step. Once the onions are soft, you'll want to add the carrots, broth, soy sauce and seasoning.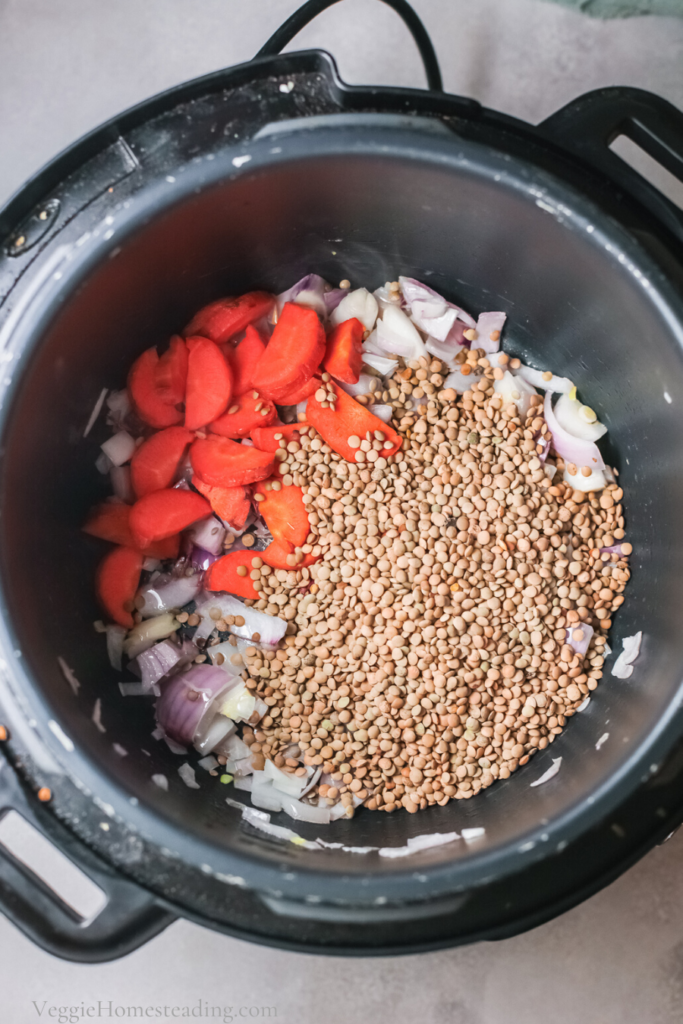 Shut the lid of your Instant Pot, set for 20 minutes and make sure the valve is closed. You will want to naturally release the Instant Pot.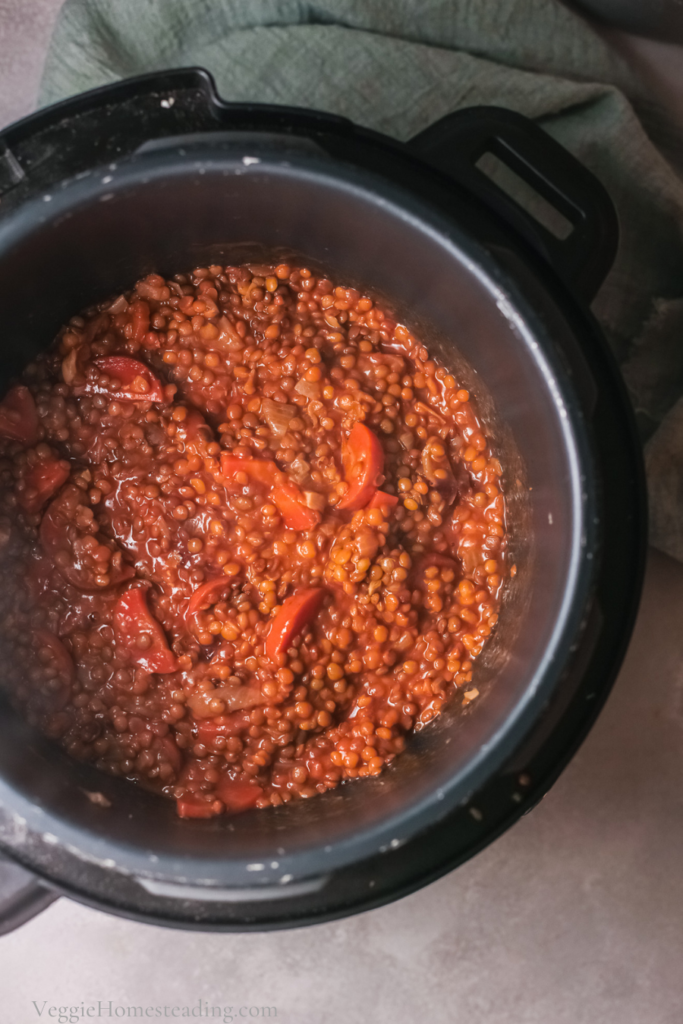 Open the lid and add the tomato sauce. Stir to combine. Replace the lid and let it cook for 5 more minutes until thickened.
Time To Eat!
While this stew is delicious on it's own, or straight out of the pot with a spoon, it can be enhanced with a few of these ideas. We like to serve this on top of mashed potatoes. It's the perfect base and helps add to the creaminess! Rice is also a great base.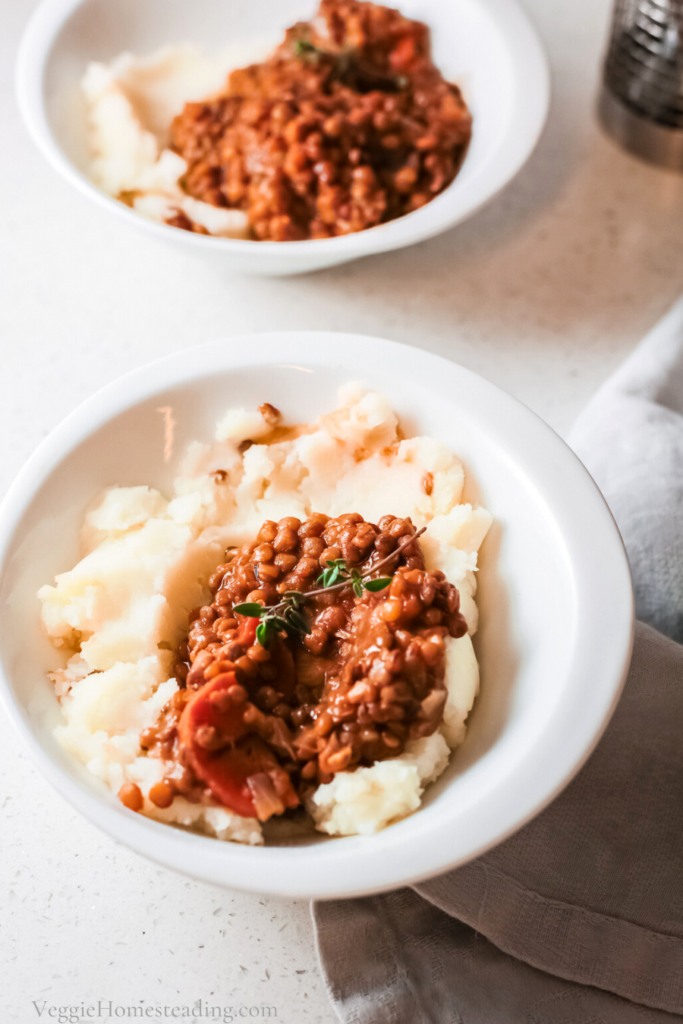 There are many dishes that taste even better on the second day, reheated. This is one of these! This dish can also be frozen!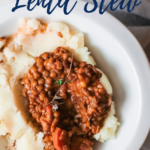 Print Recipe
Instant Pot Vegetarian Lentil Stew
A hearty, meatless stew full of flavors and versatility!
Ingredients
3

TBS

olive oil1 red onion

chopped1 carrot, chopped 1 cup lentils 2 cups of broth 1 TBS soy sauce 1 tsp garlic powder 1 tsp onion powder 1/4 tsp dried rosemary 1/4 tsp dried thyme salt and paper to taste1/4 cup tomato sauce
Instructions
Set up the Instant Pot in the saute setting. Add the olive oil and heat. Add the onion and saute until fragrant and slightly transparent, around 3 minutes. Add the carrot, lentils, broth, soy sauce and spices. Close the lid and valve and set on high pressure for 20 minutes. Naturally release steam and open the valve and lid. Set on saute, add the tomato sauce and stir to combine. Cook for 5 more minutes or until thickened.