There are quite a few foods that I have a hard time, but Garden Fresh Salsa is one that I absolutely can't stop! Give me a bowl of chips and a bowl of this crisp, flavorful salsa and I will be set! Maybe throw in a margarita, but that's optional. This garden fresh salsa is not only delicious but it is incredibly simple to make!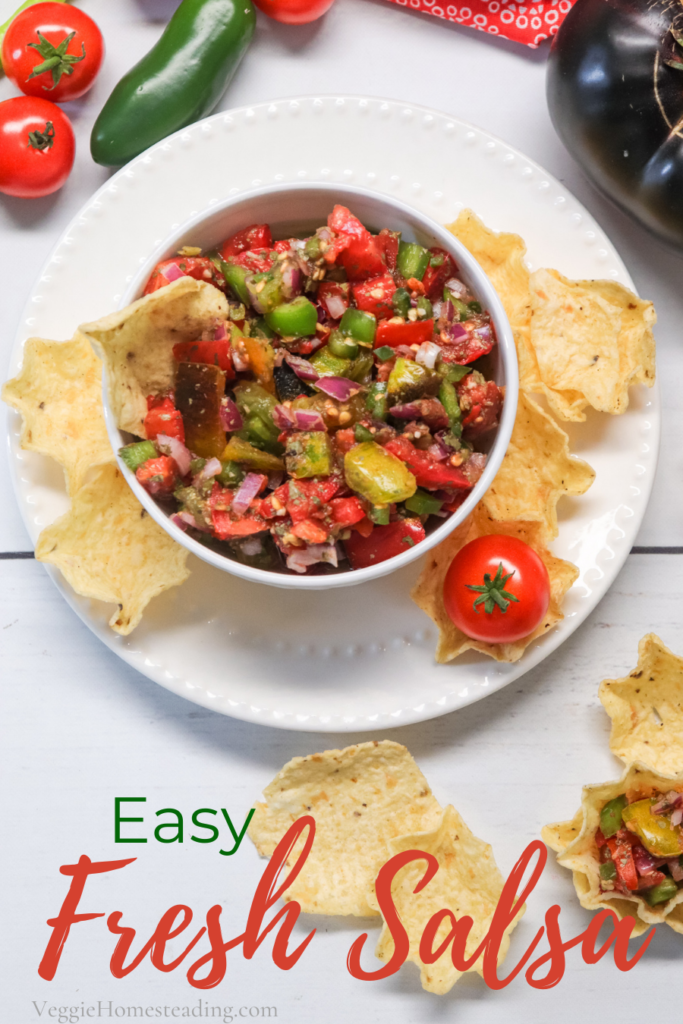 Salsa is one of those condiments that compliments almost anything. Rice, pasta and tortillas. Chicken, pork or steak. It's versatile and incredibly delicious! Full of fresh vegetables and juices, this bowl of deliciousness is one you won't be able to turn down!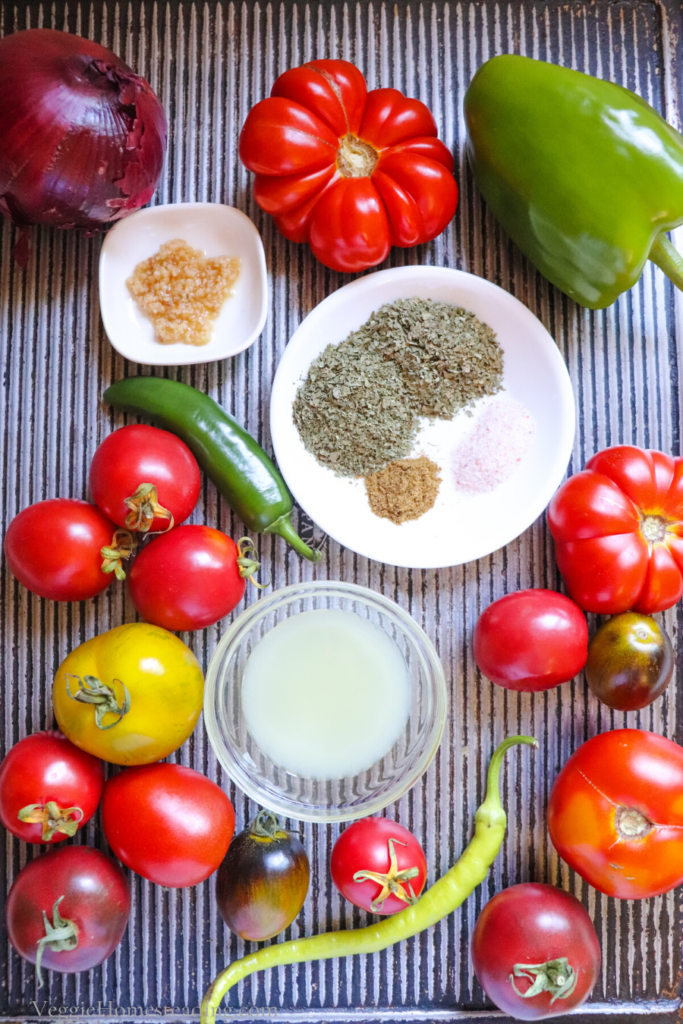 One of my (other) favorite parts of this salsa recipe is that almost all of the ingredients came from my garden! Tomatoes, garlic, jalepeno, mild heat pepper, green bell pepper, red onion and cilantro. Other ingredients include salt and cumin plus lemon and lime juice.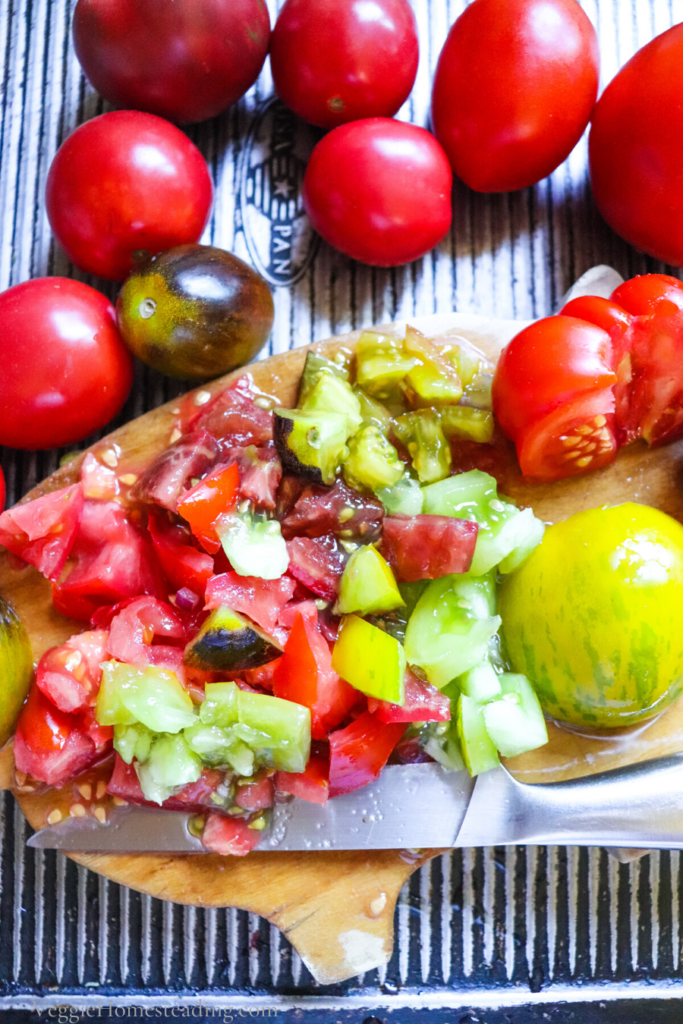 All of this chopped together, the flavors run together and make a unbelievably delicious topping for your favorite crispy tortilla chips!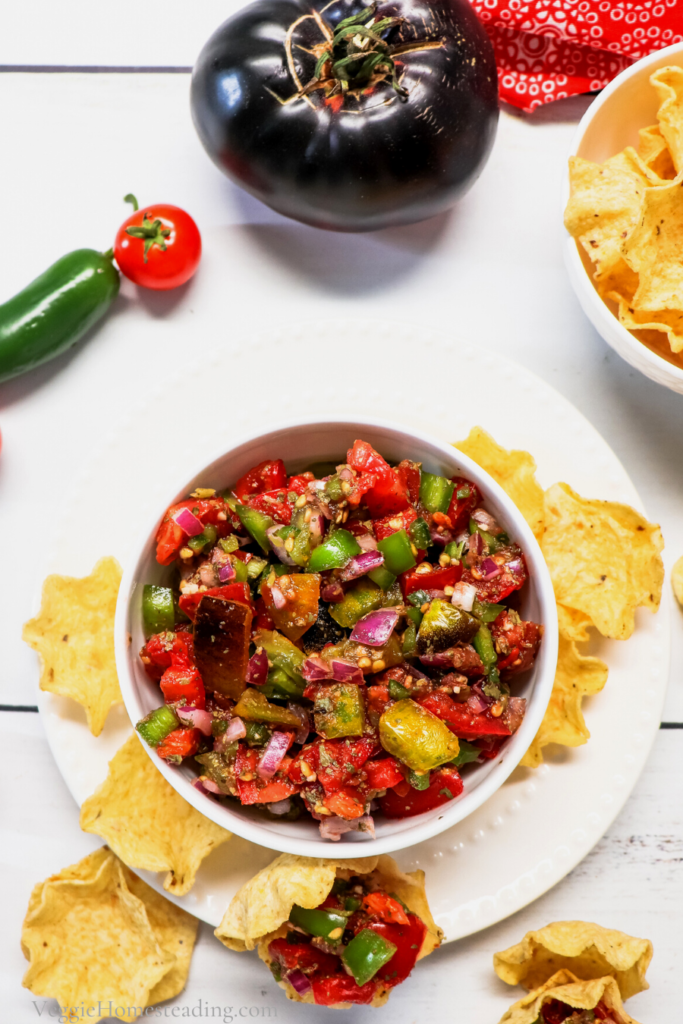 In case you don't know, the heat level of this salsa can be adjusted. The seeds & ribs inside the peppers are the spiciest parts. If you prefer a mild salsa, leave some or all of the ribs and seeds out of your batch. If you are a heat lover, add them all in!
Another reason I love salsa is that I can make it one time a year and enjoy it all year long. You can freeze or can salsa. It's the perfect way to enjoy garden fresh salsa all year round! You can have the garden fresh even in the middle of the winter!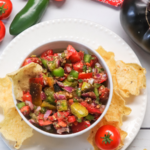 Print Recipe
Garden Fresh Salsa
A Garden Fresh Salsa recipe. Straight from the garden to your chip!
Ingredients
6

ripe medium size tomatoes 1 1/2 tsp minced garlic 1 jalepeno pepper 1 mild heat pepper1 green bell pepper 1/2 medium red onion 3 TBS fresh cilantro 3/4 tsp salt 1/2 tsp ground cumin 1 TBS lemon juice 1 TBS lime juice
Instructions
If you would like to remove the seeds from the peppers, start by doing this from the bell pepper, jalapeno, and hot pepper. Finely chop red onion. Dice tomatoes. In a medium size bowl, mix peppers, onions, tomatoes, cilantro, garlic, salt, cumin and juices. Allow salsa to mellow at room temperature before serving. Serve with tortilla chips.