Are you looking for information about growing zucchini? Zucchini is a versatile plant that is not only easy to grow but easy to prepare. The zucchini is a summer squash and part of the gourd family.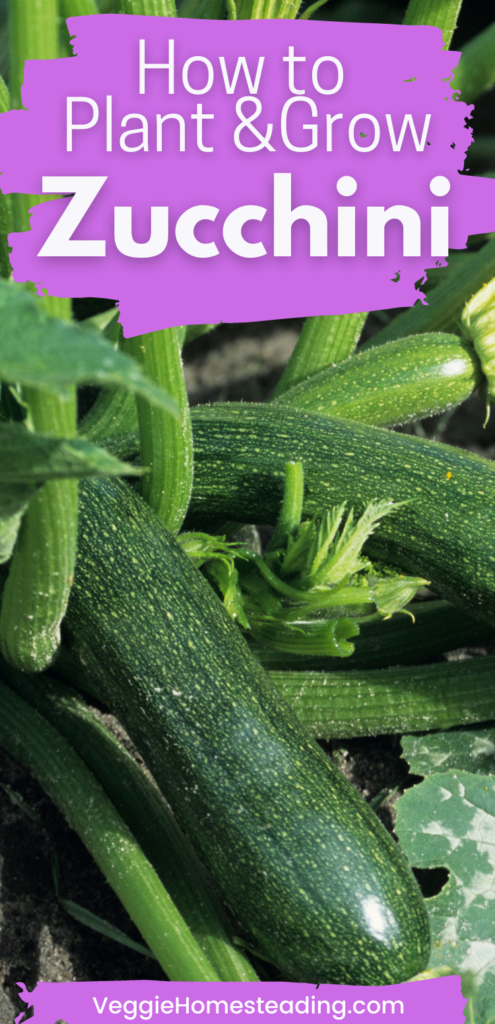 Botanical Information: Cucurbita pepo
Quick Facts:
Zucchinis should be planted in full sun.
Zucchini Varieties:
Black Beauty: Compact bush variety, perfect for small gardens.
Raven: A compact bush plant that produces 2-3 plants per week. The skin on this fruit stays tender.
Fordhook: A vigorous, bushy plant. The fruit has a good texture with creamy white flesh.
Gadzukes: A compact, upright bush. This produces a sweet, crispy zuccini with a good texture.
Gourmet Gold: This bushy, large plant provides a beautiful, bright orange-yellow zucchini.
Summer Green Tiger: A compact, bushy vine plant perfect for small gardens that produces a best-tasting zucchini.
Starting:
Zucchini could be planted as a small plant or seeds. When starting seeds, they should be planted directly into the garden when the chance of frost has passed.

When the soil is 65-70 degrees Fahrenheit, zucchini seeds can be planted. In warmer climate (Southeast, Southwest or the Gulf Coast of the U.S.), zucchini can be planted in both the spring and fall. In zones 6 and lower, zucchini is best grown as a summer crop, usually planted in May.
Spacing:
Zucchini seeds should be planted 1/2 inch deep and sowed 3 to 4 inches apart. The rows should be 2 to 3 feet apart.
As the zucchini plants grow, specifically 4 to 5 inches tall, they can be thinned to be spaced 6 to 8 inches apart. There are some varieties of zucchini that are viney. They require room to sprawl, so a trellis may be necessary.

Companions and Enemies
Zucchinis do well planted next to beans. Beans help to fix the nitrogen levels that will balance the pH level, helping zucchinis to grow stronger. Other companions to zucchini is dill, garlic, mint, oregano, peas, radishes and marigolds. Corn is also a fantastic companion plant, because the corn stalks help to keep the vines off the ground.

There are a few plants that would devastate a zucchini plant. This includes potatoes, fennel and pumpkin.
Watering :
Zucchini plants need steady moisture to produce large crops.
The moisture also helps prevent problems, such as blossom end rot. If the flower does not get enough water, it will rot because of dry soil. Ensure to water the soil, instead of the leaves. This will help prevent disease on zucchini leaves. Alternatively, a soaker hose or drip irrigation would be great too.
Light:
Zucchini prefers full sun, at least 6 to 8 hours of sun.
Maintenance
Keeping the vines off of the soil is very important. If plants succumb to disease, pull up and throw away.
Pollination:
Zucchini plants are insect pollinated. Meaning a bee, beetle or other pollinator is needed to move the pollen from a separate male flower over to a female flower.
If growing in a greenhouse, zucchini plants can be hand pollinated. This can be done by using a paintbrush to pick up the pollen and move it.

Common Problems
Squash Vine Borer Larvae: The larvae feeds inside the main stem. You'll know this by the crumbly, sawdust like wast collected below a small hole at the base of the plant. You can prevent this by wrapping tinfoil around the base of the plant stem.

Powdery Mildew: This makes the leaves look to be covered in a powder like coating. This can be prevented by ensuring the plants are spaced far enough apart.
Squash Bugs: These are a shield shaped insect that suck out plant juices with their mouth. This will cause stippling, yellowing and browning of the leaves
Harvesting
Harvest time depends on the variety, but generally the zucchini plant has the best flavor and is most tender when the crop is young. When the crop is large, zucchini tends to be mealy and full of seeds.

When the fruit is ready to harvest, about 3 to 8 inches long, use a knife or pruners to cut the zucchini off of the plant.

To help keep fruit to last longer after harvesting, leave at least an inch of stem attached.
Storing & Preparing
Zucchini can be stored in the fridge. This is best done with the fruit being whole, dry and unwashed. Keep in a plastic or paper bag that is open to allow for air flow. In the fridge, they will keep for 1-2 weeks.

Zucchini can also be blanched and then frozen. Read This for more information about freezing.
Zucchini can be prepared and served in a variety of ways. You can boil, saute, grill or even eat fresh.