Lentils are a type of grain legume, otherwise referred to as a pulse, which are commonly used in stews and soups and offer high amounts of protein and fiber to meals.
Like other legumes, lentils come in several varieties, characterized by colors, with each color offering a slightly different flavor and sometimes requiring a slightly different cooking time (depending on your method of cooking used). 
In this "Cooking with Lentils" article series, you'll learn:
How to Cook Lentils in Your Pressure Cooker
How to Buy and Cook Lentils
How to Freeze Lentils
How to Make Lentil Flour
How to Cook Trini Style Lentils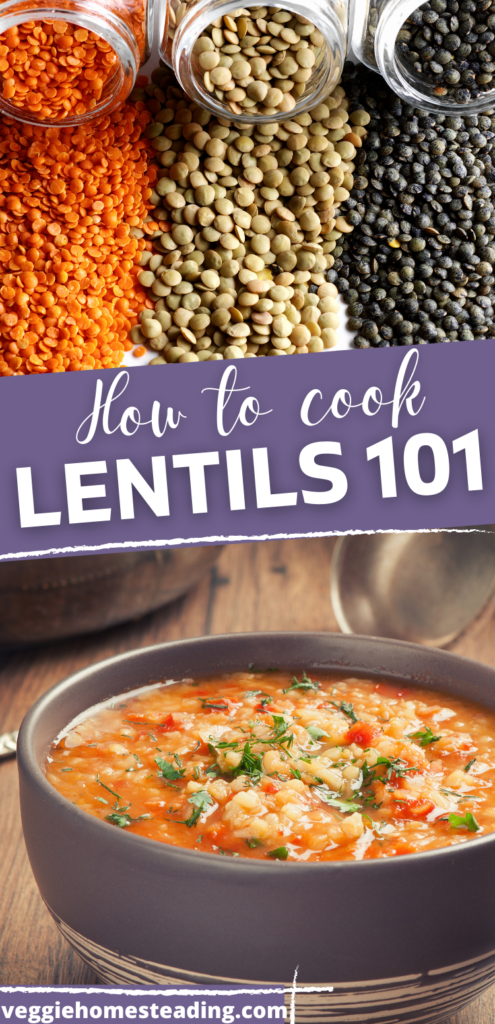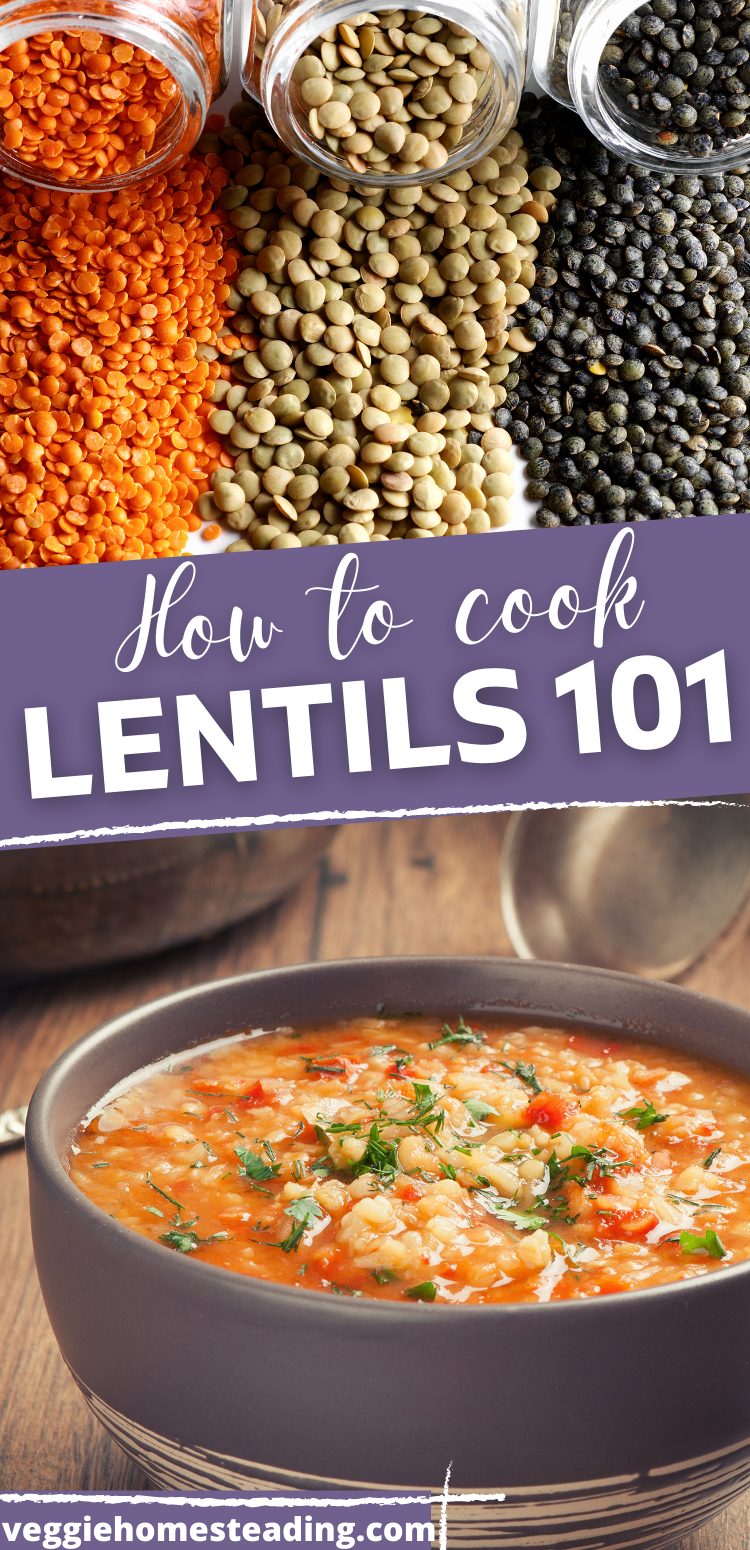 HOW TO COOK LENTILS IN YOUR PRESSURE COOKER
If you are looking for a quick and nutritious meal to whip up easily in your pressure cooker then lentils are the way to go!
These hassle-free legumes don't need to be soaked prior to cooking (unlike other legumes like beans that can cause digestion sensitivity if not soaked adequately) which means that you can have them fully prepared to enjoy within 20 minutes of having removed them from your pantry.
Steps For Cooking Your Lentils In A Pressure Cooker
Here are some helpful steps for cooking your lentils in a pressure cooker:
Step 1: Before adding your lentils to the pressure cooker, make sure to sort through them, removing any debris possibly present and then rinse them thoroughly with cold running water in a colander.
Step 2: Now is the time for adding your lentils to the pressure cooker. To do so, you will want to add 1 part lentils and 3 parts water in your pressure cooker i.e. if you are cooking 2 cups of lentils then you will need to add 6 cups of water.
Step 3: To prevent your lentils from foaming while cooking and clogging the pressure valve, add 1 tablespoon of vegetable oil for every cup of lentils. Using the same quantity as mentioned above, that means you'll need to add 2 tablespoons of vegetable oil for 2 cups of lentils.
Step 4: Season your lentil mixture with whole cloves of garlic, dried herbs and spices, bay leaves or quartered onions.
Step 5: Secure your pressure cooker's lid and set it to cook on high. Once it has reached high, reduce to a medium cooking setting.
Note: Cooking times differ depending on the type of lentil used. Cook French green and green lentils for 10 to 12 minutes, brown and red lentils for 8 to 10 minutes and split lentils for 4 to 6 minutes.
Step 6: Once the cooking time is up, make sure to allow the pressure cooker to cool and depressurize before opening it. You can always cook your lentils for a few extra minutes with the lid off if they are still too tough for your liking. Once done, season your lentils with salt to taste before serving.
If you have any leftover lentils or you want to make a big batch ahead of time for meal prep purposes, you can store your cooked lentils in the refrigerator in an airtight container for up to 3 days. Alternatively, once fully cooled, you can store the lentils in a freezer-safe container or bag for up to 1 year. In both instances, make sure to store your lentils with their cooking liquid otherwise they will dry out.
HOW TO BUY & COOK LENTILS
Purchasing quality lentils ensures that you get flavorful legumes that will also keep longer in storage. To ensure that you purchase quality lentils, try to buy those that are in clear packages so that you can assess the quality.
Tips To Assess Quality Lentils
Buy lentils in clear packages so you can identify the quality.
The lentils should have a bright uniform color – If the lentils look dull, it's most likely that they lack freshness.
The lentils should also be uniform in size to ensure that you don't have uneven cooking times.
You can also Inspect the lentils for cracks or holes and avoid buying any package of lentils that looks damaged in any way.
You can make lentils in various ways, however, making them on the stovetop or in the pressure cooker are the most common ways. Cooked lentils will have a nutty flavor with health benefits or being a great source of protein, and contain sources of vitamins and minerals such as, thiamin, riboflavin, calcium and iron.
HOW TO FREEZE LENTILS
Have any leftover lentils or want to make a big batch to freezer for meal prep purposes. A great way of keeping your lentils for longer is by storing them in the freezer which you can do for up to 1 year!
The best kinds of lentils to freeze are those that tend to be firmer so that they are less likely to become mushy when frozen, thawed and reheated. These lentils includes:
French lentils;
Other green lentils;
Black beluga lentils; and
Brown lentils.
Those smaller, more fragile lentils that are more prone to become mushy include:
Orange lentils;
Red lentils; and
Yellow lentils.
Follow the directions below to store your cooked lentils correctly:
Step 1: Strain your lentils well once done cooking.
Step 2: Place your strained lentils into a freezer bag or airtight container and allow about 1 inch of space at the top to allow for expansion during freezing.
Step 3: Label your container or bag and include the date you froze them and the date by which you should eat them.
HOW TO MAKE LENTIL FLOUR
Lentil flour is essentially ground uncooked lentils and is a healthy substitute for wheat flour.
It can be used in baking as well as many Southeast Asian recipes due to it's naturally nutty flavor. Although available in most health stores, it can sometimes be tricky to get your hands on as well as being quite expensive. Luckily, you could easily make your own lentil flour using your food processor or a mill designed for grinding spices and coffee.
Here's how you can easily make your own lentil flour:
Step 1: Clean your lentils by removing debris and running under cool water.
Step 2: Place paper towels or clean tea towels on a baking sheet and spread your cleaned lentils over in a single layer. Dry your lentils by pressing your paper or tea towels over the top and apply pressure to rid the lentils of excess water.
Step 3: Leave the lentils in a sunny or warm area until they have completely dried.
Step 4: Transfer them to a clean, dry skillet and toast them over a medium heat, making sure to stir them frequently to prevent burning. Remove the skillet from the heat after five minutes of toasting and allow them to cool.
Step 5: Transfer the toasted lentils to a food processor or coffee and spice grinder and pulse until they are a fine powder. You can process the lentils in batches if you need to.
Step 6: in a powder form, sift the lentil flour through a sieve into a glass jar or container and discard any pieces that don't pass through the sieve. You now have lentil flour that can be used in various recipes!
HOW TO COOK TRINI STYLE LENTILS
Trini-style lentils are centered around trini-style cooking (or Trinidad-inspired cooking) which incorporate certain spices and flavors that are custom to the Caribbean.
If you haven't tried trini-style lentils before then you're in for a treat. They make a hearty recipe which is sure to be enjoyed by the whole family. Follow these directions below to make some delicious trini-style lentils for your next meal!
What You Will Need To Make Trini-Style Lentils
Lentils
Medium-size carrot
Medium-size onion
2 cloves of garlic, chopped
1 ½ cups of vegetable stock (or chicken stock)
1 tablespoon of coconut milk powder (or 1-2 tablespoons of coconut milk)
Salt and pepper to taste
Directions for Making Trini-Style Lentils
Pour your lentils on a flat and clean surface and start to remove any debris you can see including any broken lentils.
Place the lentils in a bowl and then fill the bowl so that there is enough cool water to cover the lentils. Run your fingers through the mixture lightly which will dislodge any extra debris like dust and other articles. Some of this extra debris will float to the surface of the water which you can remove from the bowl. Then allow your lentils to soak for 30 minutes.
Peel and chop the carrot, onion, and garlic into small pieces.
Remove the water from the lentil bowl and rinse your lentils with cool water again. Transfer the lentils to a medium-size pot and add the garlic and vegetable stock. Note: You can use water instead of stock if you wish.
Cook the lentils for about 30 minutes on a medium heat on the stovetop, stirring them occasionally to prevent them from sticking to the bottom of the pan and burning. Then add the carrot and onion.
Cook for another 15 minutes or until the lentils and vegetables are tender.
Add coconut milk powder (or coconut milk) to make a thickened broth.
Remove the lentils from the heat and then stir in salt and pepper to taste.