Beans can be and often are so underrated when really they actually provide nourishing meals that can be stretched far to feed many hungry faces around your table and are also extremely economical!
Beans are high in protein, fiber, calcium, potassium, and iron, and can lower cholesterol and protect against ulcers. I'm sure by now you're already starting to view beans in a different light!
But let's talk about cooking beans for a second – pretty easy, right?! Simply add them to boiling water, dump them into a recipe of various ingredients and enjoy…well, yes and no.
While cooking beans is by no means rocket science, there are definitely best practices that you should be aware of to ensure you end up cooking the tastiest beans. So stick around to learn how best to cook beans and the reasons for these practical tips and hacks.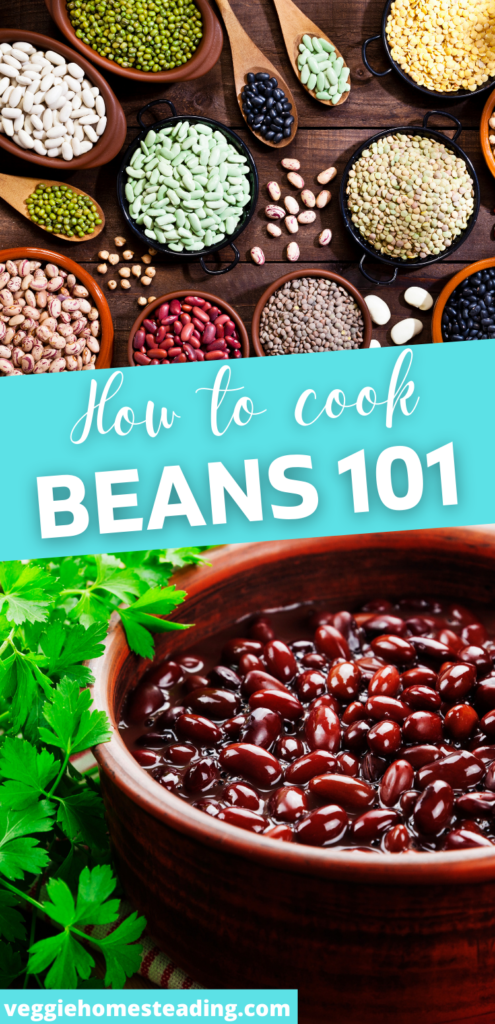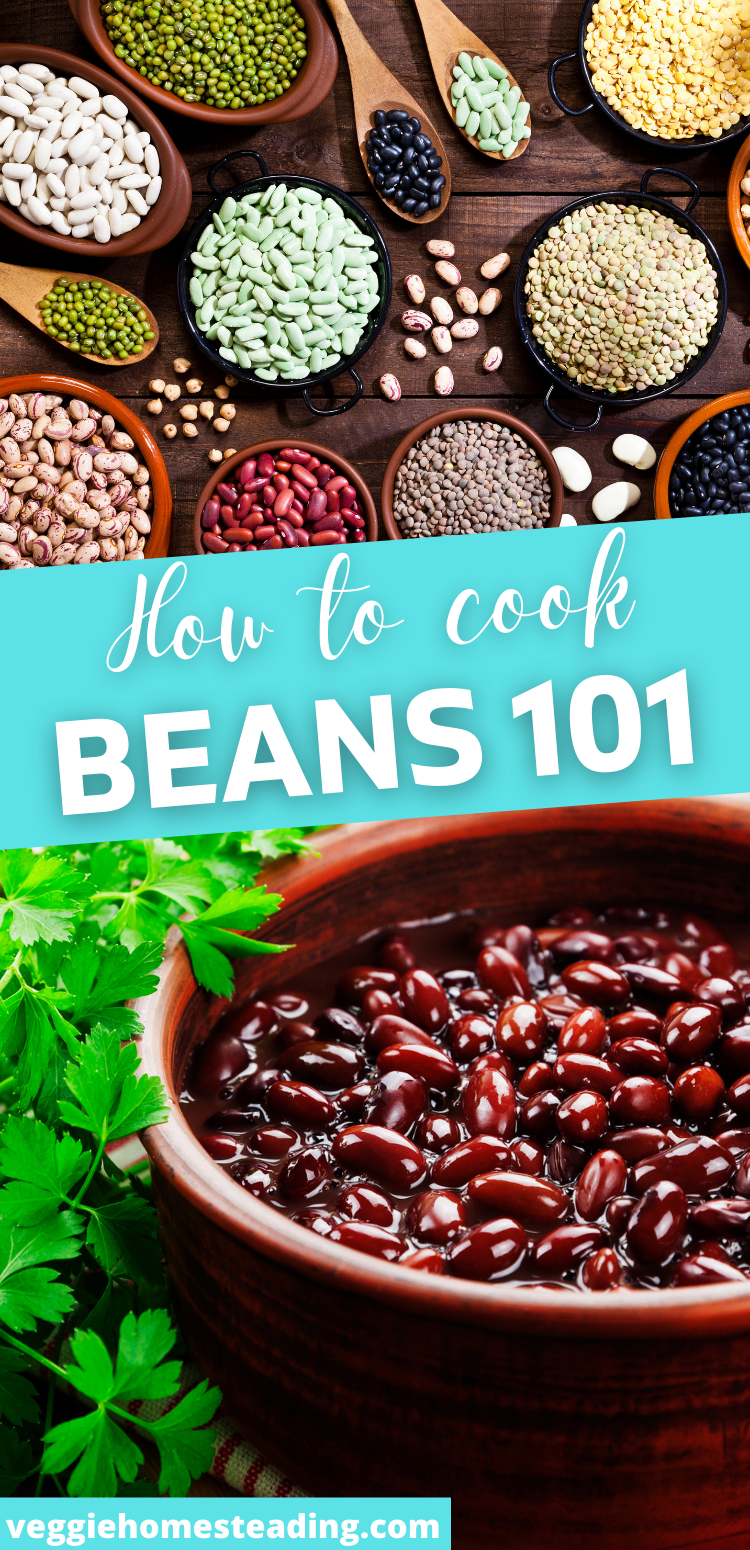 CANNED BEANS VS. BULK BEANS
Canned beans provide the benefit of already being fully cooked, ready for you to simply add to a recipe which means less time soaking and cooking them from scratch.
I would suggest modifying the seasonings called for in a recipe if you do opt for using canned beans though as canned beans usually already have a high sodium count and could also have additional seasonings. Always read the label of your canned beans and then adjust accordingly.
Purchasing dry beans in bulk usually comes with the advantage of greater choice of beans than what you would get if purchasing canned beans. Dry beans obviously don't have added seasoning for you to take note of when adding to a recipe which means you can follow a recipe exactly without the need for any kind of seasoning adjustment.
Should you wish to use dry beans in a recipe that calls for canned beans, bear in mind that most dry beans triple in volume once fully cooked while black beans, navy beans, split peas, or garbanzos will quadruple in size. You'll definitely need to adjust your ingredients should you want to substitute dry beans for canned beans and vice versa.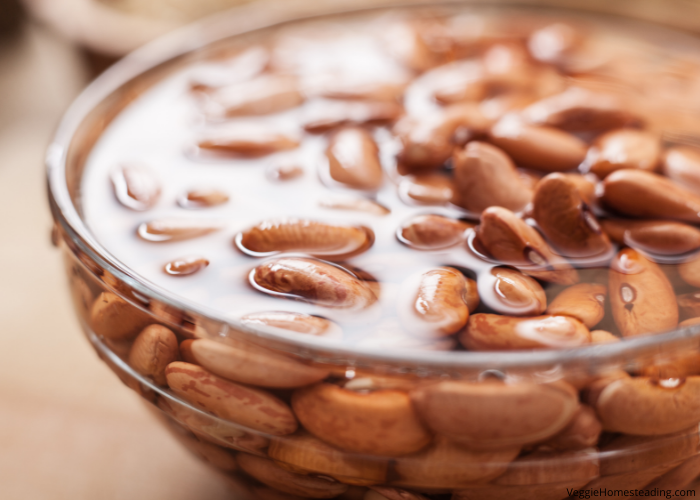 THE IMPORTANCE OF SOAKING BEANS AND HOW TO DO IT
The reason that dry beans need to be soaked prior to cooking is due to the fact that some beans (especially those with thicker skins) can cause digestive problems for some people and soaking them overnight removes indigestible sugars responsible for the digestive irritation.
If you have a sensitive digestive system and are prone to bloating then it may be a good idea to soak your beans for at least 8 hours although overnight is best.
Soaking beans also helps to prevent you from getting split beans while cooking them.
Here's how to soak your beans correctly:
Rinse your beans in cold water, picking out any shrunken ones or debris like pebbles or grass.
Place the beans in a pot with at least three cups of water for every cup of beans. Then refrigerate them overnight.
The following morning, discard any beans that have floated to the top as these are likely to be hollow or damaged.
If you are short of time, don't worry- have a look below at how you can quick-soak your beans for just an hour prior to cooking them.
HOW TO QUICK-SOAK BEANS
Rinse your beans in cold water, picking out any shrunken ones or debris like pebbles or grass.
Place the beans in a pot with enough water to cover them by two inches.
Bring the water to a boil, cover the pot with a tight-fitting lid, remove the pot from the heat and let the beans sit for one hour.
You have the option from there to either continue cooking the beans in the recipe using the same water you soaked them in or drain the beans and start again with fresh water.
HOW TO STORE BEANS
Once cooked, allow your beans to cool completely before you transfer them with their liquid to the refrigerator in an airtight container for up to 5 days.
Beans also freeze very well. To help with space in your freezer, make use of plastic ziplock bags for storing the beans in their liquid. It's also a great idea to divide batches of beans without the need for thawing an entire lot when you are needing a smaller amount for a recipe – it's a great trick for meal prepping!
You can store your beans in the freezer for up to 3 months.
FREQUENTLY ASKED QUESTIONS ABOUT BEANS
Do All Beans Need To Be Soaked?
This depends on two things: The method of cooking and the type of beans.
You will usually be able to get away with not having soaked your beans when you cook them in an Instant Pot whereas stovetop cooking does require you to have soaked your beans.
Here are a list of dry beans that don't need to be soaked prior to cooking them in an Instant Pot or other pressure cooker as their skins are usually thinner than those that do require soaking:
Black beans
Black-eyed peas
Great Northern beans
Navy beans
Pinto beans
Cannellini beans
Chickpeas (garbanzo beans)
Do All Beans Require The Same Cooking Time?
No. The cooking time differs according to the bean variety, the age of the beans and even the type of water you use (i.e. water with higher levels of calcium can increase the cooking time). For this reason, you should always follow the cooking time specified in a recipe.
Why Are My Beans Splitting While Cooking?
Beans split when the seed coat is still too hard when the interior of the bean rehydrates. To prevent this from happening, soak your beans to ensure that the seed coat is also well rehydrated when the interior cooks.
You should also generously salt your water as the salt ions will replace calcium in the bean skins and soften them.
What Should I Add To The Beans While Cooking?
Dried beans are delicious when cooked with sea salt but you can also add onion, garlic and other aromatic spices and powders to the pot of boiling water to increase the flavor of the beans.
Such simple additions also turn your starchy bean cooking liquid into a deliciously tasty broth that you can keep to use in other recipes like stews and soups as a thickening agent.